a snapshot view
Photo Gallery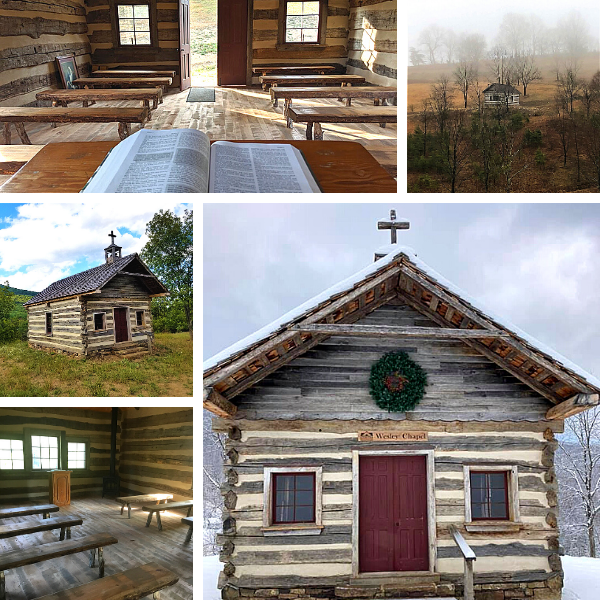 The Wesley Chapel, constructed from an 1840s log cabin, was moved to the property and reconstructed to replicate a small, 50-seat 19th century church.  The chapel is named after the great John Wesley (born June 17, 1703, died March 2, 1791), Anglican clergyman, evangelist, and founder, with his brother Charles, of the Methodist movement in the Church of England.
From the age of 35, Wesley viewed his mission in life as one of proclaiming the good news of salvation by faith, which he did whenever a pulpit was offered him.  One of his most famous statements, "Do all the good you can, by all the means you can, in all the ways you can, in all the places you can, at all the times you can, to all the people you can, as long as ever you can," has become the mission of Wingfield Ministries.
This quaint log chapel is designed with simplicity to prevent distractions and keep the worshipper focused on the Lord and His presence.
The Evangel House, a beautifully crafted, rustic masterpiece is constructed from an 1840s era log home.  Each of the five master bedrooms is named after influential Evangelists who have helped shape the Christian culture and heritage of this nation.
The first floor features the Coleman Room, complete with a king-size bed, full bath, and beautiful stone fireplace.
The kitchen, fully stocked with dishes, pots & pans, utensils, and small appliances needed to prepare your own delicious meals, includes a bar countertop with barstools.
A washer and dryer are cleverly concealed behind a gorgeous sliding door directly across from the half bath.
The dining area, arranged with small tables with total seating capacity for 12, also features a beautiful stone fireplace and a large-screen T.V.
The second floor includes a parlor with an oversized, comfortable, reclining sectional and a glider rocker; the Legacy and Whitefield Rooms, both featuring king-size beds; and the Cartwright Room with a queen-size bed.  All three bedrooms have their own full bathrooms.
On the third floor, you will find the Sheffey Room and a large, full bathroom.  In addition, there is a beautiful additional space with a queen-size bed, perfect for younger guests and singles.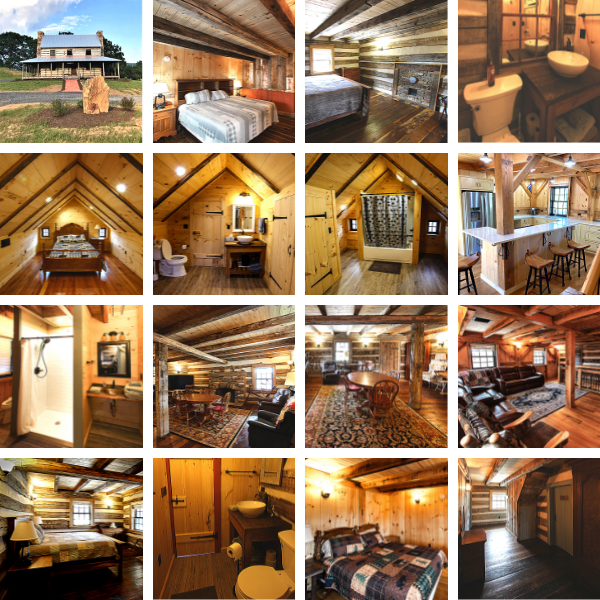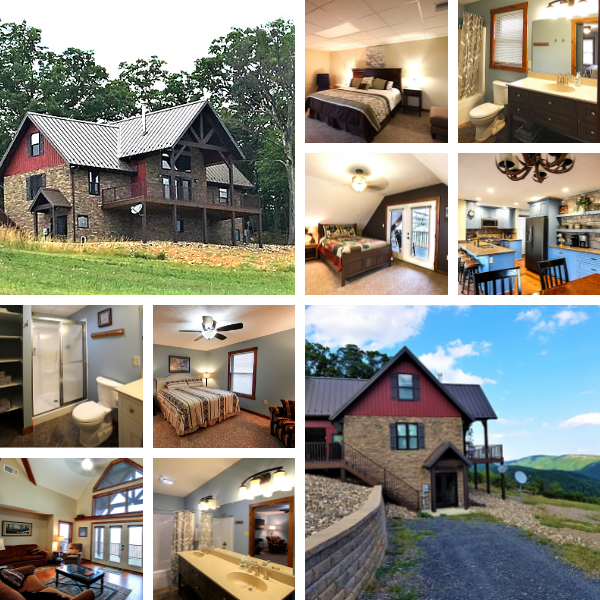 The Weaver House boasts a breathtaking view of Cave Mountain from the front deck, which also provides the perfect vantage point for observing deer and other wildlife and admiring stunning sunrises.  The deck is furnished with an outdoor table and chairs, ideal for enjoying meals in the fresh, mountain air.
The ground floor includes two king-size master bedrooms; a kitchen and dining area with comfortable seating capacity for 10, including the table and bar area; and a living room with plenty of natural lighting and access to the deck.
On the second floor you will find a loft bedroom with a queen-size bed, desk, and a full bathroom.
The basement offers another king-size bedroom, a bedroom with two singles, and a full bathroom.
A paved parking and patio area including an outdoor table and chairs and grill are located outside of the Weaver House.
Constructed from a barn initially built in 1800 in Chambersburg, PA, the Ebenezer Event Center serves as our Dining Hall and Bunkhouse and is perfect for large gatherings and youth retreats.
Ebenezer, found in the Book of 1 Samuel, means "stone of help."  "Then Samuel took a stone and set it up between Mizpah and Shen. He named it Ebenezer, saying, "Thus far the LORD has helped us." (1 Samuel 7:12)  The stone of Ebenezer should signify to us that trusting in anything or anyone short of Christ is a precursor to failure.  If we recognize our misplaced trust and reverse course, He is faithful to forgive, grant us mercy, and provide his guidance and protection.  We have placed our Ebenezer Stone in front of the Event Center to serve as a reminder to us that the Lord has been in every detail of this project from the very beginning, and we encourage every guest of the inn to select a stone from the property to take home with them to serve as a reminder of how God has helped them.
This charming center houses two bunk rooms with three bunks in each; two adjacent counselors rooms; three full bathrooms with showers, including one handicap accessible; two half bathrooms; and one handicap accessible bedroom.
The spacious dining hall can accommodate a multitude of people.  The large commercial kitchen includes a service window, 20 cu. ft. freezer, gas range, large stainless steel sink, icemaker with bin, dishwasher, and refrigerator.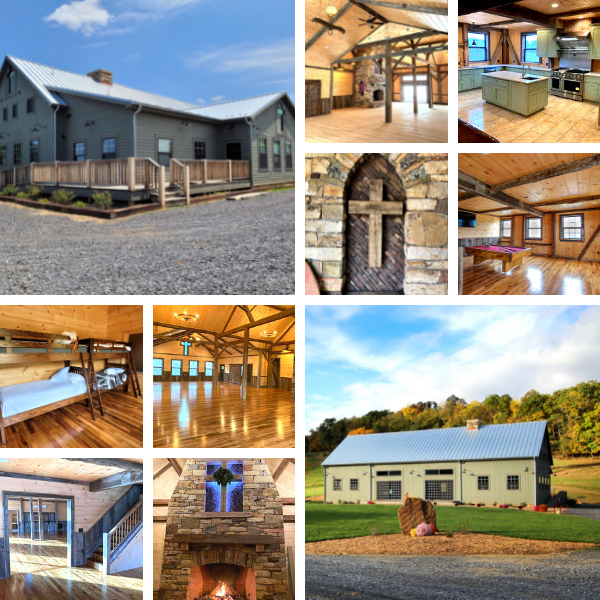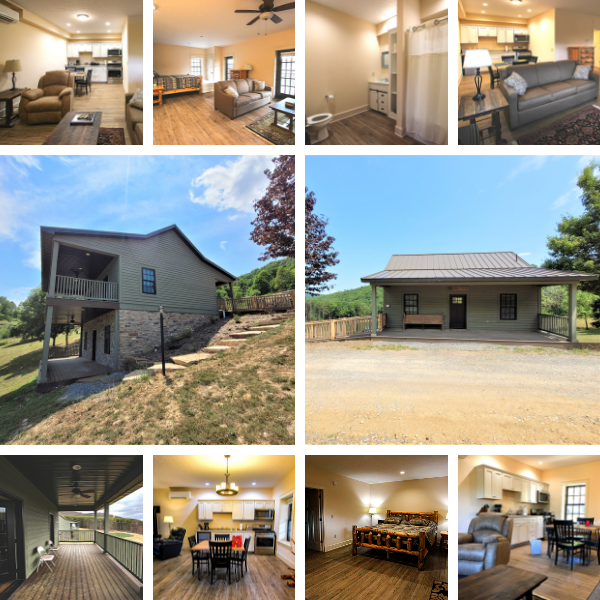 Two cottages with two cottage units each are available for guests and are perfect for couples or families of three.  The Finney and Towns Cottages are on the upper level and are handicap accessible from the driveway.  The Landes and Brunk Cottages are on the lower level.
Each cottage unit offers a king-size bed; small kitchen/dining room with a table for four; living area with a pull-out sofa and swivel rocker/recliner; and a full bath.
Each cottage features a deck overlooking the ponds.